PowerGen Upgrades and Maintenance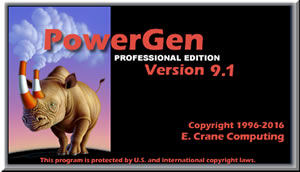 Purchase of PowerGen Professional comes with a 60-day warranty in the form of a money-back guarantee. At the time of purchase, you're also entitled to 60 days of free technical support.
E. Crane Computing offers phone support at (603) 226-4041 during our business hours 9:00 to 5:30 EDT, or via the Internet at This email address is being protected from spambots. You need JavaScript enabled to view it..
You may purchase a software maintenance agreement for PowerGen Professional Edition. This agreement gives you one year of full technical support services, including software updates, unlimited telephone support, and access to an online download area throughout the year.
Prices for the software maintenance agreements are:
PowerGen Professional Edition
Single copy yearly maintenance $250.
Five-pack yearly maintenance $1,000.
Please contact E. Crane Computing at 603-226-4041 for more information about technical support in general. You can also email E. Crane Computing's Technical Support by using this email link: This email address is being protected from spambots. You need JavaScript enabled to view it..