What's New with PowerGen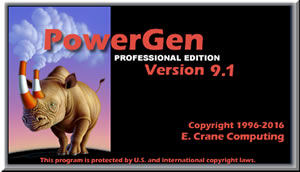 PowerGen V9.5 Supports PowerBuilder 2017
PowerGen V9.5 adds support for PowerBuilder 2017 and continues support for earlier versions going back to V5.0. As with earlier releases this version is 100% compatible with your build process. V9.5 will open projects created with earlier versions and there will be no changes required of your build scripts.
V9.5 also supports building of EAS Server applications for the first time. These can be selected from Targets and Workspaces and incorporated into PowerGen projects.
For other details of this release you can view the ReadMe.
PowerGen V9.5.2 Released
August 17, 2017 - PowerGen V9.5.2 was released to correct a problem creating a PBD with resources in a PBR when the PBR path is relative. The existing download password is still valid.
We are pleased to continue support of PowerBuilder under its new developer, Appeon. And are encouraged by the new resources being applied to extending PB.

PowerGen V9.1 Released
PowerGen V9.1 supports PowerBuilder V12.6, including 64-bit deployment, and previous versions from V5.0 on. This release is for sale in the Purchase section of the website.
Current customers with support agreements can download the new version; you will be notified about the new access password via e-mail. A 30-day evaluation version is also available at in the TestDrive section.
New Features and Bug Fixes
PowerGen V9.1 provides several new features and bug fixes. Details are presented in the ReadMe released with new installation.
The most important change is to the Bootstrap Import and Synchronize functions. A bug in the second phase of the import was causing the Function object syntax to be parsed incorrectly. The resulting import produced many extraneous errors. Although the error didn't affect the quality of the build the output log would show many error messages that were unnecessary (and distracting).
The Synchronize function has been streamlined to eliminate unnecessary processing when objects haven't changed.
Object comments that have Unicode characters will now be imported correctly.
Objects that include non-ANSI characters will be flagged correctly when imported. Previously the import would produce a blocking dialog in some cases.